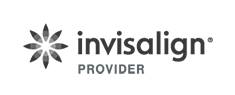 Think orthodontic treatment is just braces and wires? Think again! Invisalign treatment utilizes a series of clear, custom-made aligners. Each aligner is programmed to put gentle pressure on the teeth to get the desired tooth movement a little at a time—all without brackets and wires.
Invisalign's main advantages over braces are cosmetics and comfort. No brackets mean nothing will rub on the inside of your mouth. They're also clear, so you'll barely notice they're there. Moreover, since they are removable, you are not restricted on what you can eat, and you can brush and floss your teeth like normal!
The Invisalign Process at Frial Orthodontics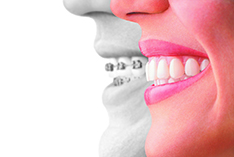 During your initial consultation, Dr. Frial will provide an exam and take X-rays to determine if Invisalign is right for you. Invisalign can treat practically every malocclusion, including crowding, open bite, spacing, deep bite, etc.
Once you receive your aligners, you'll need to wear them 20-22 hours a day. Use your chewies to help seat the aligners fully when you change to a new aligner for the first few days. This will help to ensure a proper aligner fit. It is important to wear your aligners as instructed since each aligner is dependent on the one before.
During treatment, you'll need to visit Frial Orthodontics every 6 to 10 weeks, so Dr. Frial can monitor your progress and make any necessary adjustments. Your treatment may take as little as 6 months using Invisalign Express or up to 18 months with the Invisalign Unlimited Package depending on how much correction your teeth need.
Frial Orthodontics—Your Trusted Laguna Niguel Invisalign Provider
As a Silver Preferred Provider, Dr. Frial has completed hundreds of Invisalign cases with a great rate of success. He will carefully plan your case to be as efficient as possible. It is common to have additional aligners to fine-tune the teeth; however, Dr. Frial closely monitors your case to reduce the amount of additional aligners, thus reducing the amount of treatment time.
Invisalign and the Invisalign logo, among others, are trademarks of Align Technology, Inc., and are registered in the U.S. and other countries.
---
Invisalign® Testimonials
"I just finished Invisalign from Dr. Frial. He and his wonderful staff are amazing! Extremely thorough and dedicated to their work, the entire team took every COVID precaution seriously and did so with their patients being their top priority. Dr. Frial communicates with his patients and their families to keep them informed and up to date. In terms of the actual treatment, Dr. Frial explains everything and makes sure his patients feel comfortable and at ease, and understand what he's gone over with you before you leave the office. I highly recommend Dr. Frial and his fabulous staff if you or anyone you know are needing orthodontic care." – Emily D
"Dr. Frial and his staff were extremely organized, and detail-oriented, with excellent follow through and even called my dentist to coordinate future procedures. His work on my teeth with invisalign was impeccable, even though my teeth presented problems and were tough to move. The results were great and exactly as I expected. Thank you Dr. Frial and staff for a job well done!" – Gary P